---
MIE encourages exchange opportunities for both inbound and outbound students. Below are guidelines to help students satisfy exchange program requirements.
Student Experiences as Exchange Students
Presentation slides from November 23, 2017 Information Session
Guidelines
The major challenges for students studying abroad are not centred on academics, but rather adapting to (and finding a place within) a new culture. While abroad, students may encounter language difficulties, unusual social customs, difficulties in making new friends, and fitting in their new environment. Students intending to go abroad for studies must embrace the diversity experienced in their newly adopted society, respect its values and traditions,  and be proactive in creating new friendships to alleviate some of these challenges. Here are some tips to lessen the culture shock and avoid being lonely: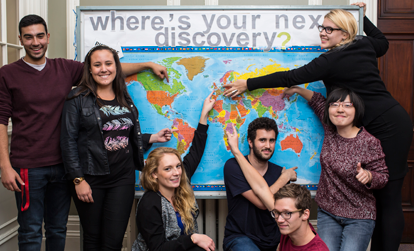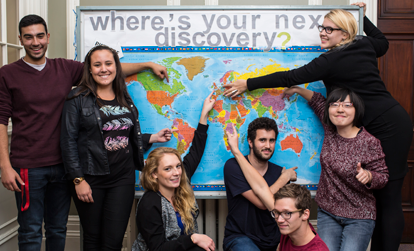 Be positive, civil and treat your classmates with respect
Be proactive and socialize with your classmates
Join clubs with other students who share your interests
Participate in sports events and social gatherings
Take part in festivities and enjoy the new culture
Make use of international student services for additional assistance
Professor Shaker A. Meguid's presentation Studying Abroad Made Simple
(PDF).
Below we outline the pathway students should follow to complete MIE's and the University's requirements for studying abroad:
Choose a Program – Examine the provided list of partner universities with which MIE and the Centre for International Experience (CIE) have exchange agreements.
Apply – Submit an application for exchange through CIE. Students will be required to submit an academic reference letter, statement of intent, questionnaire form, resume, and bursary application (optional) upon applying for exchange.
Let us Know! – Students should inform the MIE Undergraduate Office, MC109 (ugservices@mie.utoronto.ca) of their desire to go on exchange, and the institution(s) they have applied for.
Conditional Nomination – If selected, students will receive a conditional nomination from CIE. Students will be notified of the result of their bursary application at this time. Students can view the status of their application on CIE's Student Portal.
Transfer Credit Assessment – Upon receiving notice of conditional nomination, students should drop into the MIE Undergraduate Office, MC109 to discuss the transfer credit assessment process. Students will be required to submit a Transfer Credit Form and provide a syllabus/course description for each course they wish to have assessed.
Placement Confirmation – Once officially accepted, students will receive an admissions letter from the host institution. Bursary funds will be released once CIE receives notice that the student accepted the offer of admission.
Pre-Departure Requirements – students must satisfy certain requirements prior to going on exchange.
Study Plan – Once enrolled in courses, students should submit a Study Plan to the MIE Undergraduate Office.
Exchange – Students should go on exchange (obviously).
Transcripts – Upon completing their exchange program and prior returning to the University of Toronto, students should have a transcript from the university at which they studied sent over to CIE. The MIE Undergraduate Office will then work with CIE and the APSC Registrar's Office to ensure the appropriate transfer credits are rewarded.
Review – Students should review their transfer credits on ROSI and study plan to ensure they are still on the right path to graduate.
Some of the Partner Universities stated below are applicable for third year MIE students wishing to study abroad:
| | | | |
| --- | --- | --- | --- |
| Country | Partner Institution | Open to: | Minimum GPA |
| Australia | University of Sidney | all | 3.00 |
| China | Beihang University | APSC | 2.25 |
| China | Chinese University of Hong Kong | all | 2.25 |
| China | Peking University | all | 3.00 |
| China | Tsinghua University | all | 3.00 |
| Japan | Kyoto University | all | 3.00 |
| Japan | University of Tokyo | all | 3.00 |
| Korea (South) | Yonsei University | all | 2.50 |
| Norway | University of Oslo | all | 2.25 |
| Singapore | National University of Singapore | all | 2.25 |
| Sweden | Lund University | all | 2.25 |
| Switzerland | ETH-Zurich Federal Institute of Technology | all | 3.00 |
| Turkey | Bogazici University | APSC, ArtSci, UTM, UTSC | 2.25 |
| UK (England) | University College, London | all | 3.20 |
| UK (England) | University of Manchester | all | 2.70 |
| UK (Scotland) | University of Strathclyde | all | 2.25 |
Note: CIE's exchange partners are not limited to the institutions above, for a full list please click here.
The MIE Undergraduate Office is pleased to announce the creation of pre-approved academic year-long transfer credit pathways for the following universities:
| | | | |
| --- | --- | --- | --- |
| Country | Institution | Available for: | Minimum GPA |
| Singapore | National University of Singapore | Mec, Ind | 2.25 |
| Switzerland | ETH-Zurich Federal Institute of Technology | Ind | 3.00 |
| UK (England) | University College, London | Mec | 3.20 |
| UK (England) | University of Manchester | Mec | 2.70 |
| UK (Scotland) | University of Strathclyde | Mec, Ind | 2.25 |
Read the exchange website carefully
Prepare all documents in a timely fashion
Understand your rights and obligations to UofT, MIE and the host University
Read and get acquainted with the host culture
Clear understanding of the effect of the study abroad on the degree requirements
Understand that he/she is our ambassador abroad
Plan the trip well in advance (accommodation, insurance, travel, courses, etc.)
Ensure financial viability
The
MIE International Exchange Grant Scholarship
is open for undergraduate students enrolled in the Department of Mechanical & Industrial Engineering at U of T. The applicants must have a minimum cGPA of 3.0 and enjoy good academic standing. The travel grant is for $2,000 (maximum), and is one-time only irrespective of the duration of stay at the partner (host) university.
Mitacs is now accepting applications for competitive international research opportunities, including student travel to and from Canada. The deadline to apply is
March 4, 2016, at 5 p.m. PST.
To learn more, visit the
Globalink Mitacs website
.
Please note that if you are not a citizen of the country you are visiting for exchange, you will require a residence permit. For most countries, you need to apply for a residence/study visa well in advance of your entry.
International Exchange Programs
Applications for 2017 Summer Intensive Program, Nagoya University, Japan
Deadline: 
February 16, 2017
Submission of undergraduate and postgraduate Applications for the above program is now open and will proceed as follows:
b. Statement of Purpose
c. Statement indicating how they will meet the course fees, flights, local transport and their living expenses in Japan
d. Letter of support from Supervisor (if you are a graduate student conducting research)
e. A brief about your current research project or past experience/proof of interest in the car industry
2. Depending on the number of applicants, a priority list may be necessary.
3. The list of applicants or the priority list, if needed, will then be submitted to Nagoya University for their final selection.
Important information:
Applications received outside deadline date will not be considered
No credit is provided for this summer internship by MIE or U of T.
Financial Awards Offered by MIE for NUSIP-Japan: If you are applying for Nagoya University Summer Intensive Course, you may be entitled to a financial award of up to CAD$2,000 towards the program registration fee. Please submit an application outlining the reasons why you should be receiving this award to David Duong (david@mie.utoronto.ca) by TBD.
The 2017 summer program at Nagoya University will provide students with a rare opportunity to connect with and play a role in automobile technology. The program offers academic credits torwards students' engineering degrees and beyond the core curriculum, students may further supplement their practical know-how with enrichment as they are exposed to the authentic environment of the auotmobile factory and research centre. A Japanese language course is also offered.About the Program
**At present there is no financial support to this summer program from MIE.
| | |
| --- | --- |
| Fourth Year | Fifth Year |
| Study at U of T, pick from a diverse list of electives. | Enter Master of Engineering program, consisting of 10 courses, or 7 courses and a project. |
| | |
 Admissions
Step 1: Apply through SCUT
Step 2: U of T Application form: A) UG Exchange Application, B) Graduate Studies Application
Requirements
Transcripts from SCUT
Min. 80% in 2nd/3rd year
Min. 77-79% in 4th year
What's the 3+2 Exchange Experience Like?
"It's a great experience to study in U of T. MIE offers a wide range of courses given by greatprofessors during which you'll have lots of opportunities to cooperate with people from all over the world. You'll be able to solve problems from different perspectives and improve your English ability a lot."
– Xiaohan (Lily) Luo
GLOBEX [Currently not being offered for 2017-2018 Exchange]
Students may attend Globex on their own accord, but will not receive any recognized/ transfer credits from MIE/ U of T. 
The Global Educational Exchange (GLOBEX) program is an initiative for educational exchange and research collaboration between the College of Engineering at Peking University and other engineering institutions. GLOBEX is considered an educational summit, with faculty and students residing across the globe congregating at Peking University. The program is designed to deepen the growing partnership between the participating institutions by providing a framework for exceptional students and faculty to attain a global educational, research and professional experience. All parties subscribe to the policy of equal opportunity and non-discrimination on the basis of race, sex, age, ethnicity, religion or sexual orientation. The GLOBEX agreement is governed by the principles of equality, inclusiveness and mutual benefit.For additional information, please review the following documents:
Forms:
JUACEP started at Nagoya University in 2011 as a government-granted program for graduate students to nurture global view under research-based education between Nagoya and US partner universities. It is going to expand to Canada 2018. The course sponsors students from University of Michigan, UCLA and University of Toronto, allowing them to conduct research activities at Nagoya University.
Contact information
Centre for International Experience
MIE Undergraduate Office
MIE Graduate Office
Cumberland House, Room 204
33 St. George Street
University of Toronto
Toronto, Ontario, M5S 2E3
Tel: 416-946-3138
student.exchange@utoronto.ca
Brandon Wells
Mechanical & Industrial Engineering
5 King's College Road
Toronto, ON. M5S 3G8
Tel: 416-978-6420
ugservices@mie.utoronto.ca
David Duong
Mechanical & Industrial Engineering
5 King's College Road
Toronto, ON. M5S 3G8
Tel: 416-978-2805
david@mie.utoronto.ca
The Centre for International Experience is responsible for facilitating student exchange programs and helps with non-academic matters relating to studying abroad, such as guidance on visa requirements, accommodation, tax office, medical care, etc.
The MIE Undergraduate Office will help facilitate the transfer credit assessment process, and assist in developing a study plan for students.