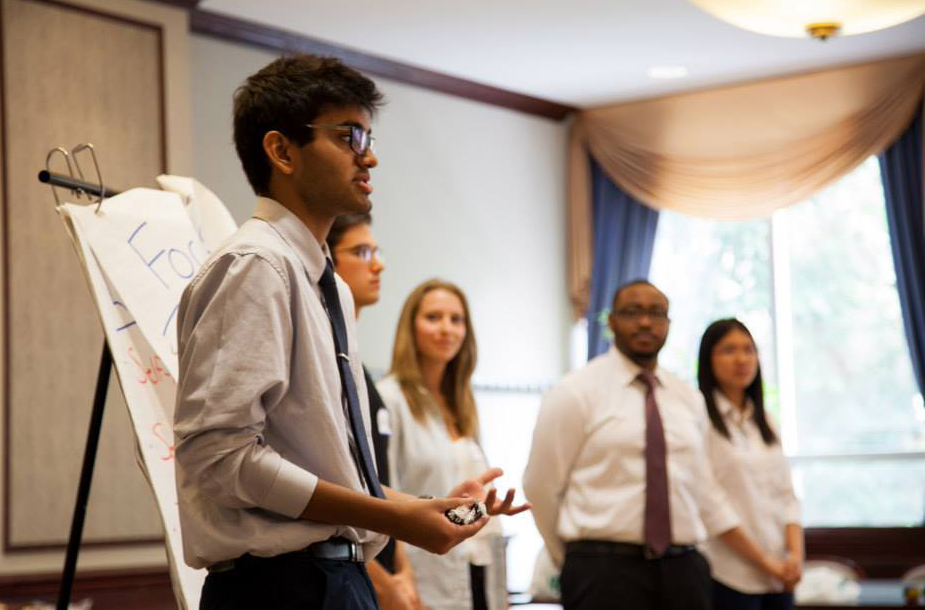 April 29, 2015 — When Patricia Sheridan (MechE 0T9, MASc 1T1, ILead PhD Candidate) was an undergraduate student in mechanical engineering at U of T, she loved working on team projects. Most of her fellow classmates, however, were less than enthused.
That's when Sheridan had an idea.
Now four years into her PhD in Engineering Leadership at U of T, Sheridan has turned that idea into the Team-effectiveness Learning System (TELS), a unique online tool that's designed to enhance teamwork and leadership skills among engineering students.
TELS helps students organize, learn and practice cooperative skills during their school projects, and it also sets them up to succeed in their engineering careers in either academia or industry—both environments where successfully working in a group is essential.
"Teamwork is critical because engineering is a team-oriented profession," Sheridan said. "Yet many technically savvy students struggle with the 'softer' science of how to work effectively with others in a group."
Sheridan's research is being conducted through the Faculty's Institute for Leadership Education in Engineering (ILead), a multidisciplinary hub that offers innovative learning opportunities that help engineering students develop critical competencies in leadership, collaboration, communication and problem solving.
Professor Doug Reeve (ChemE), ILead's director, said what he hears from industry echoes Sheridan's experience. Sometimes smart, technically savvy engineers fall short in their ability to translate their knowledge into a workplace setting.
"It is the ability to translate technical knowledge to real-world situations that we are developing," said Reeve.
How TELS works
TELS creates a personalized learning environment that provides students with lessons, exercises and self- and peer-assessments throughout the duration of a project. It offers students individualized training based on their current level of competency in a range of specific team-effectiveness behaviours.
For example, TELS is used in the first year engineering design courses, where formal team projects can account for up to 75 per cent of a student's grade. At the beginning of the project, students are introduced to TELS and different models that can be used to help facilitate effective teamwork.
Throughout the semester, students are asked to complete online assessments of themselves and others. This feedback is then shared confidentially with each team member, and they are encouraged to develop weak areas through tailored exercises that TELS provides. The instructors also get a report—called a sociogram—that shows how the different team members perceive each other's effectiveness.
"In the [instructor's] diagram, if you start seeing three members that are really tightly clustered together and one member that's really far out, we'll flag that as a team where it looks like the four members aren't working effectively together," she said.
The tool has already been fully integrated into several team-based courses at U of T Engineering for the last two years. This has provided data that Sheridan can analyze—such as the differences between student assessments and teaching assistant assessments—to determine how TELS is working and how to improve it in the time ahead.
National recognition
Since its development, TELS has already captured the attention of Canada's research community. This spring, Sheridan received a scholarship from the Social Sciences and Humanities Research Council (SSHRC)—an honour that is very unusual for engineers, who are typically funded through more technical-oriented funding bodies.
Sheridan said she hopes the SSHRC award will not only elevate the status and credibility of her research, but also the status of ILead and U of T Engineering "as a place that conducts world-class leadership research, in particular, on engineering and about engineers."
Using findings from TELS trials and other activities, the team at ILead is also designing a resource kit for instructors to help them teach teamwork more effectively and develop more confidence in teaching effective teamwork. This project is being funded through the Faculty's Engineering Instructional Innovation Program and has been underway for nearly one year.
Programs like TELS have great value, said Reeve, because they help students learn how to become leaders by developing self-awareness and increasing their capacity to apply their knowledge.
"And that's important not only for the success of the individual engineer, but also for the success of the enterprises they join, for the country, and for that matter, the world," said Reeve. "We have a lot of issues to deal with in the world and engineers are extremely well placed to bring solutions to those challenges—but they need an additional set of skills beyond the technical."