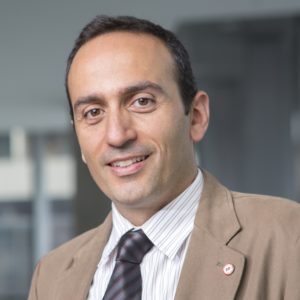 Ali Dolatabadi is joining the Department of Mechanical & Industrial Engineering as a Professor in Mechanical Engineering.  Professor Dolatabadi received a BASc from University of Science and Technology, MASc from University of Tehran, and PhD from the University of Toronto (2002). Prior to joining the University of Toronto, he was a Tier 1 Concordia University Research Chair in Multiphase Flow and Thermal Spray. His research focuses on multiphase flows develops fundamental understanding of sprays for thermal spray processes, and of droplet dynamics, heat transfer and phase change for development and characterization of novel functional coatings.
Why did you choose MIE at U of T?
One of the main reasons I chose to join MIE is that I am a graduate from the department's PhD programs, I was one of the first CACT (Centre for Advanced Coating Technologies) alumni. From my own experience, I know MIE is one of the best engineering departments in the world and is well-recognized both within North America and internationally.
U of T is also known as a hub for multi-disciplinary research and for the highly qualified personnel that attend and work at the university. My research allows for a high degree of collaboration and I am looking forward to working with so many exceptional people within the Faculty and beyond.
Can you share a little about your research and what you like about it?
My research originally focused on computational and experimental analysis of multiscale multiphase flows and development of novel functional coatings via thermal spray processes. Thermal spray is a leading surface engineering technology due to its ability to produce coatings from tens of microns to millimetres in a large range of materials at moderate cost. Functional coatings are extensively used in various industries such as aerospace, automotive, and power generation to provide protective coatings on components that are exposed to heat, corrosion, erosion, and wear, etc. Coating developments involve thermofluids, materials science, chemistry, etc. – this is why multidisciplinary research plays a key role in my day to day activities.
What do you hope to accomplish, as an educator and as a researcher, over the next few years?
I've always found my role as educator one of the most satisfying parts of my job. I feel most successful when I can positively influence my students. My biggest goal is to continually focus on the next generation of students and how we can do the best for them. While I can't wait to return to in person teaching, I can also see the opportunities COVID-19 has given us to rethink how we are doing things. We can take these lessons and integrate them into our future teaching and learning capabilities to provide our students with the best learning experience possible.
As a researcher, my biggest goal is to add another dimension to surface engineering and additive manufacturing. There is such a wide range of applications to the research I do and I'm looking forward to collaborating with my colleagues within industrial engineering, materials, chemical engineering, and UTIAS. I also hope to continue to focus on developing more environmentally friendly coating processes and applications.
Tell us a fun fact about yourself.
I love horses – and I have participated in many show jumping competitions.
Do you have any favourite spots from your time at U of T?
I have many good memories of my time in Toronto and I'm looking forward to being back on campus. During my PhD you would often find me at the Second Cup on College Street. I also used to love going to restaurants on Baldwin Street with my colleagues for lunch.
-Published March 2, 2021 by Lynsey Mellon, lynsey@mie.utoronto.ca