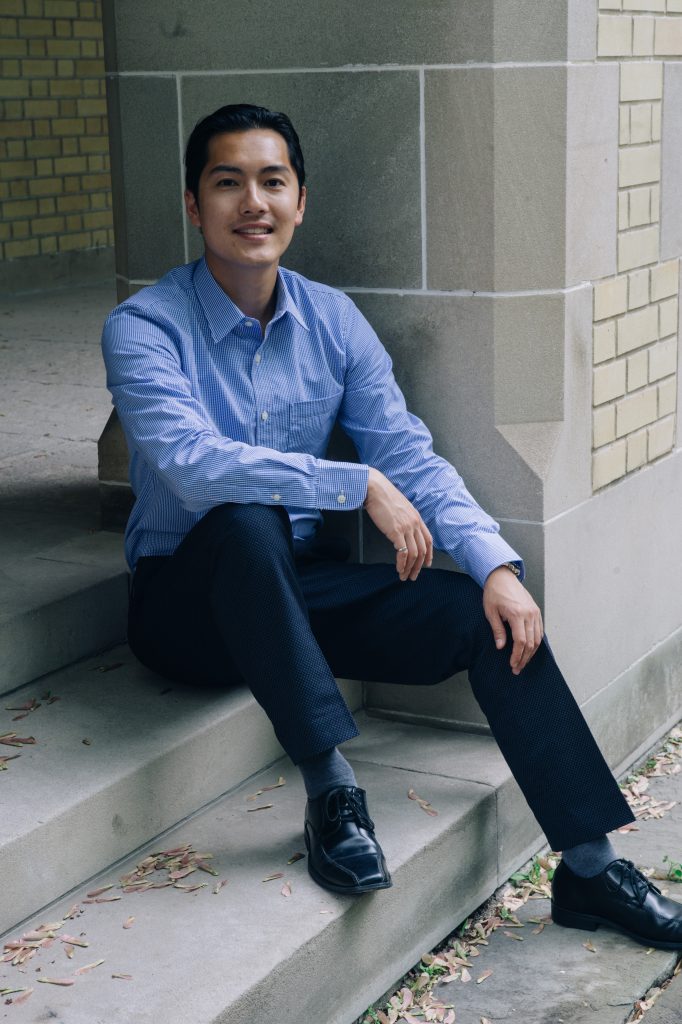 January 9, 2018 – Since Al Chick (IndE 0T7 + PEY)graduated from industrial engineering 10 years ago, his ambitions has taken him many places. He's been to Boston, to study at Harvard Business School; to Belgium and Finland, to work as a process engineer and a machine design engineer, respectively; and then back to Toronto to work as a consultant at Deloitte. And since 2013, he has been based in Los Angeles, working as the business and marketing lead for LEGO's Creative Play Lab (previously Future Lab).
Al spoke with MIE recently to share his wealth of experience and his advice to current engineering students.
Why did you choose to study Industrial Engineering at U of T?
When I was graduating from high school, I was looking for a program that would cater to my love for math, science and business.  MIE invited me to a weekend open house. It was the combination of the atmosphere, the professors that I met, the blend of social and applied science in the curriculum, and the research presented to me that led to my enrolment.
What made your time at MIE memorable?
Looking back, I have fond memories working on projects with my classmates in the computer labs. At the time, the late nights and getting through the head-scratcher assignments was demanding. However, we also had lots of laughter, deep conversations, and along the way, learned a lot from one another. It was an amazing experience figuring out solutions together with incredibly smart and dedicated classmates.
How do you think your engineering education has prepared you to work towards and achieve your career goals?
Studying engineering has given me the confidence to solve problems. I feel equipped to assess complicated situations, ask the right questions, and methodically solve problems each layer at a time. The industrial engineering program has helped me develop a well-rounded set of skills in engineering, communication and management which I apply today in my work.
You started in consulting at Deloitte in Toronto, and now lead business & marketing at LEGO in Los Angeles. Can you take us through your career journey? What decisions led you to where you are in your career now?
Throughout my life, since I was young, I always followed my heart and focused on the things that I enjoyed doing from a passion and interest perspective. Initially, I was curious about manufacturing and supply-chain management so I pursued opportunities in these areas. Later at Deloitte Consulting, I was interested to learn as much about the business world as possible, and get exposure to all of the different sectors within the Canadian economy. As my career went on, I was really excited about product development and innovation, which led me to my job at LEGO.
Tell us about your job at LEGO
At LEGO, I work in the product innovation department in Los Angeles where I am responsible for spotting trends, articulating business opportunities, consumer testing/research, and design & development of new creative play experiences. I love my job because I am always learning, whether it is about how kids interact with one another in an emerging market, how Augmented Reality/Virtual Reality experiences will impact the way that kids learn, or how new business models will affect the way consumers shop and play with LEGO.
What advice would you give to young alumni, or engineering students graduating this spring, who aspire to have a successful career like yours?
My advice would be to spend the early stages of your career learning about what you are passionate about and what excites you. That could be a specific role, the function, or the industry. Then forge a path to get the relevant experiences to excel in the area that you care deeply about.
Don't let money be the driving decision because that will likely not fulfill you. Lastly, spend time every so often to think about the big picture of having impact in the world. If you are graduating from University of Toronto, you are already very fortunate, what can you do to make the lives of those around you better and how can you focus your energy to make a difference?
What are your plans for the future, both short-term and long-term?
In the short term, I am continuing to develop expertise in the areas of product development, marketing and management. My focus is to develop the skills to lead and have impact at scale. I love businesses that lean heavily towards creativity & innovation. I can certainly see myself leading product initiatives at LEGO. In the long-term, I'd love to put my best entrepreneurial foot forward and create a venture that will positively impact those with needs that I am well-equipped to address.
Is there anything else you'd like to add?
I recently went back to U of T over the holidays and met a few students in the Robotics lab. It's amazing to see how the department has grown and how the curriculum has advanced over time. I know the bright engineering minds from MIE will create new technologies, businesses and services that will make our alumni proud.