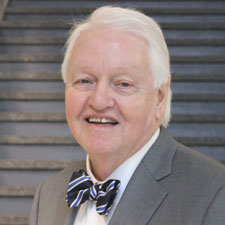 PhD
Professor Emeritus, Industrial Engineering
Email: ward@mie.utoronto.ca
Tel: 416-978-4807
Office: MC309
Research Group: Thermodynamics and Kinetics Laboratory (TKL)
---
Research Area
Thermofluids
Research Interests
Thermodynamics and kinetics: gas and vapour adsorption kinetics; surface tension of solids; evaporation and condensation kinetics; surface tension-driven flow; energy transport at liquid-vapour and solid-liquid interfaces.
Bio
Charles Albert Ward received his BSc from the University of Texas, Arlington, and his doctorate from Northwestern University. He joined the Mechanical Engineering Department at the University of Toronto in 1967, and was promoted to Professor in 1977.
Currently, he is the Director of the Thermodynamics and Kinetics Laboratory. A theory for predicting the rate of molecular transport across phase boundaries—Statistical Rate Theory—was developed in his lab. It has been cited in the open literature over 400 times. He and his students have published over one hundred papers in peer-reviewed journals. His studies of interfacial kinetics led to the measurement of a temperature discontinuity at the liquid-vapour interface during evaporation and to the measurement of a new property of water: the surface thermal capacity. This property defines the energy transport by surface-tension-driven flow.
The Canadian Society for Mechanical Engineering (CSME) has recognized his research contributions. In 1988 he received the Robert W. Angus Medal in recognition of a paper on surface science and in 2008 he received the Jules Stachiewiez Medal for his contributions to heat transfer.