Early April marked the end of a yearlong project for fourth year MIE students as they presented their final capstone projects to their industry clients.
In the MIE490/491 courses student teams are matched with a client and assigned an engineering design challenge. Top-scoring projects in each course receive prizes for their designs. This year students responded to client needs with projects including a 60-second COVID test kit and a personal recommendation system to maximize your road trip.
"Every year I am impressed by the thoughtful and creative solutions our students develop in these courses," said Markus Bussmann, MIE Department Chair. "Congratulations to our winning teams!"
Mechanical Engineering Project Winners
First Place:  60-Second Covid Test – A Test Kit You Can Count On!
Project Team: Usama Ansar, Arjun Gopal, Sohiel Hassan and Sumyung Jang
Supervisor: Professor Mohini Sain Client: GreenNano Technologies Inc.

The current COVID-19 rapid testing kits available on the market have the following drawbacks: they can be difficult to use, are not biodegradable and take up to 15 minutes to provide a result. The project team was given the challenge to develop a faster, more accurate COVID test that also minimizes plastic waste. The team built a compact test kit that uses electrical signals produced from the interaction between a saliva sample and functionalized electrode. These kits produce test results at a rate of up to 93% faster than the chemical test kits, are more intuitive to use and create less plastic waste.
Second Place: Precision Dispensing System for Iodine-131 Radiopharmaceutical Pill
Project Team: Hamza Arshad, Varun Khanzode, Shauna Mauceri and Zannatul Naiim
Supervisor: Professor Eric Diller Client: Isologic Innovative Radiopharmaceuticals
The current method of remotely dispensing radioactive Iodine-131 solution into pills has limited accuracy due to changing flow rates, turbulent flow and degradation of pump tubes. This causes both pill defects and variability in the manufacturing process. The project team was asked to design a mechanism to reliably dispense the solution with +/-6% precision. The team's design uses a linearly-actuated syringe to control the dispensing of Iodine-131 instead of a peristaltic pump. They also used simple mechanisms and an off-the-shelf, modular design to reduce potential failure modes.
Third Place: Reducing Injury During Post-Mortem Examinations of Obese Bodies
Project Team: Emily Ding, Hillary Fung, Ava Guse and Sophia Kotelnikova
Client: Provincial Forensic Pathology Unit Supervisor: Professor Kamran Behdinan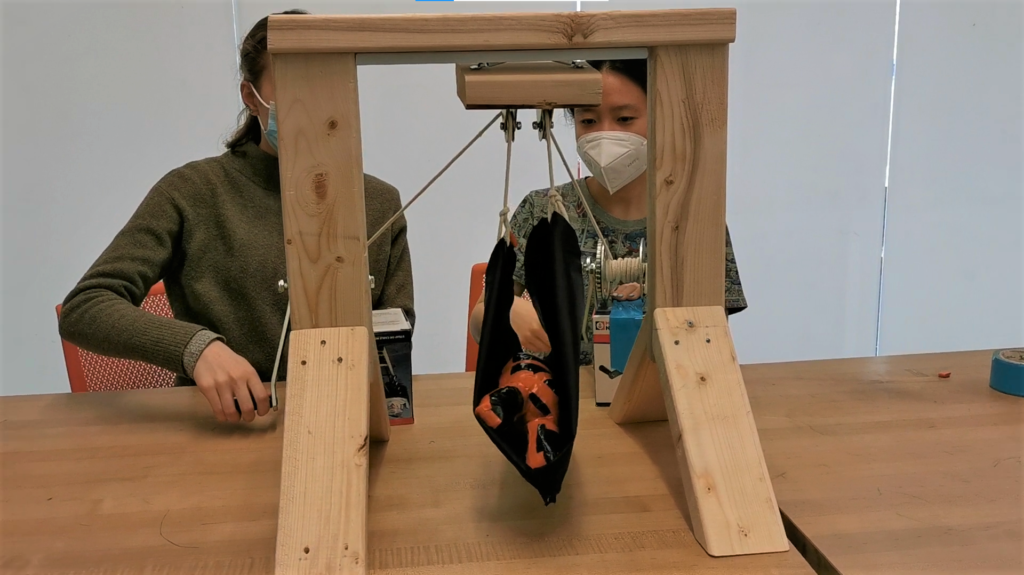 During autopsies forensic pathologists at the Provincial Forensic Pathology Unit (PFPU) currently move or flip a body over manually to access the back during autopsies. This can cause physical strain on pathologists, especially when working with a body weighing over 100kg and cause delays in workflow when waiting for additional workers to be available to help maneuver a body. The project team was tasked with creating a device to help automate the flipping and transfer of a body between the gurney and autopsy table. The team designed a wheeled mechanism with an I-beam similar to a medical lift. The design will allow all movement to be remotely controlled to minimize physical strain and is light enough to be moved manually allowing the worker to store the mechanism outside of the autopsy bay when not in use to minimize disruption in the work area.
Industrial Engineering Project Winners
First Place & The Peri Family Industrial Engineering Design Award: Switching Gears: A Comparison Tool Reshaping How Cities Plan Bike Routes
Project Team: Danielle Page, Maria Papadimitriou, Margaret Tkatchenko and John Volpatti
Supervisor: Professor Scott Sanner Client: Mott MacDonald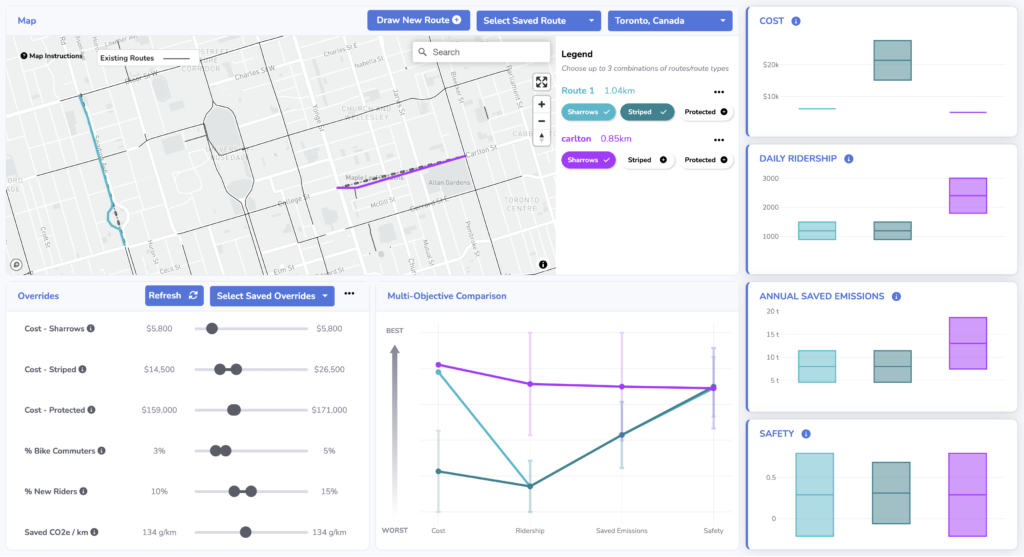 The client advises the City of Toronto on the planning and construction of new bike lanes which is currently a manual, time-consuming and unstandardized process. The team was asked to design a tool to help compare potential lane locations and make decisions under uncertainty. The team built a web-based application to compare bike lane options. The user is able to view current bike lanes and draw potential bikes lanes for comparison and possible implementation. The tool calculates the length, cost, projected ridership, saved emissions and estimated safety of the potential bikes lanes to help the user make informed decisions. The tool will allow for faster and more efficient comparisons with standardized data points for consideration.
Second Place: Classifying North York General Hospital Patient Feedback Data
Project Team: Matteo Bruzzese, Salma Dessouki, Kyra Disimino, Chloe Macdonald and Chris Overvelde
Supervisor: Professor Eldan Cohen Client: North York General Hospital
North York General Hospital collects patient feedback upon discharge. The survey includes free-form text comments, which provides too much data for the hospital to analyze manually. The project team was asked to create an automated comment classification system to help the hospital interpret and implement the feedback to improve patient experience. The team developed a system that classifies patient comments by sentiment (positive, negative, neutral) and aspect (food, time, doctor, staff). Results can be displayed in a visual dashboard to allow for quick analysis of trends in feedback data and to see key performance indicators.
Third Place: ChattyTrip – A Conversational Trip Planning Tool
Project Team: Yiyang Sun, Yiyan Tang, Yubo Wang and Xinrui Zheng
Supervisor: Professor Scott Sanner Client: iNAGO Inc.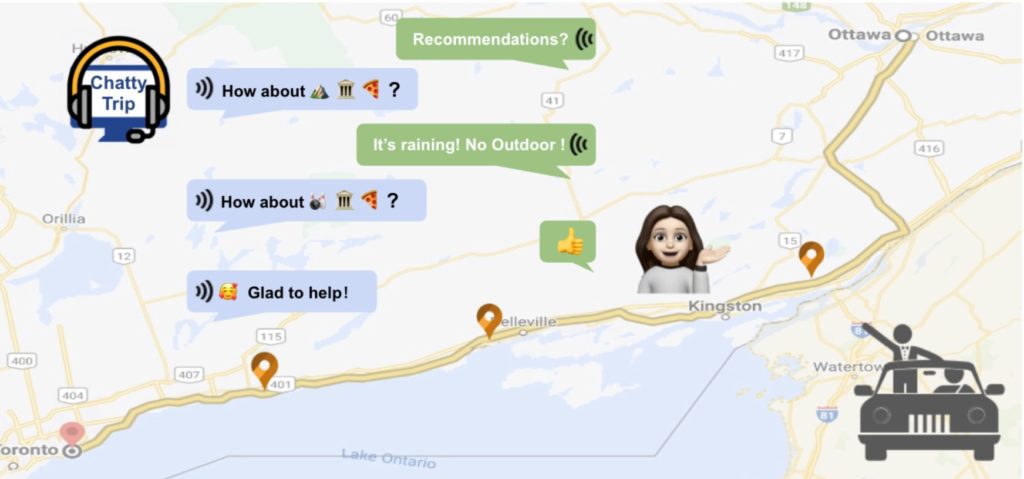 When planning a road trip, adding points of interest is a must and we turn to tools like Google Maps to plan routes and stops. However, the Google Map route cannot be modified while driving or provide personalized recommendations. The project team was asked to develop a fully conversational tool that provides personalized recommendations for trip planning. The team developed ChattyTrip, a web application that integrates a conversational and recommender system to provide the user with personalized routes. The user is able to interact with the tool using voice commands making it completely hands-free. The tool will plan the route with recommended stops and adjust the trip plan according to feedback from the user.